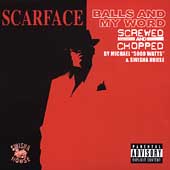 Scarface has been in the rap industry for a long time. He has collaborated with many great artists such as 2Pac, Ludacris and Jay-Z.
Scarface, a.k.a. Brad Jordan, was born and raised in Houston, Texas, in the South Acres district. He is one of the rappers of the Geto Boys, and has recorded solo albums like Mr. Scarface is Back, The Diary, and The World is Yours. In real life, he was a high school dropout at 16, and suffered from manic depression. He is currently married and has five children. Not much is known of his age (either born in 1970 or 1972), and from magazine articles, his age might be a couple of years off.
Brad Jordan is Houston emcee who got his start as a member of the Geto Boys, Scarface has been turning out inspired gangsta narratives since the eighties. His deep, smoothed-out rhymes, graphic storytelling skills, and colorful production have inspired a slew of successful solo albums beginning in 1991. One of the most reliable and prolific artists in the game, he dropped his seventh solo joint The Fix in 2002, as well as a Greatest Hits collection. When not on the mic, Scarface continues to produce tracks for upcoming artists, and also serves as president of Def Jam South.
To this day, Scarface is the mos successful member of the Geto Boys as a solo artist. His albums have either achieved gold or platinum status. His solo debut, "Mr. Scarface is Back," sold a half- million copies; the sophomore followup, "The World is Yours," went platinum. Later albums like "The Untouchable," "The Diary," My Homies," and "Last of a Dying Breed," featured MCs like Ice Cube and Tupac Shakur.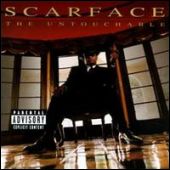 Scarface: The Movie
Scarface: The Rapper
Scarface: The Rapper- Reviews
Scarface: True Story
Index